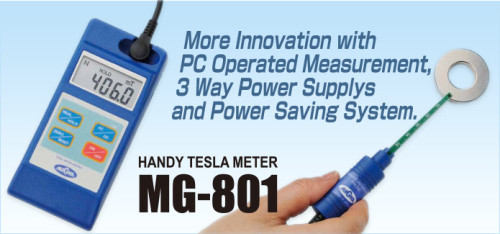 Description
Allows PC Operation with digital output through USB
1. Mearured data is read by PC and also PC can operate measuring through USB connectiont.
2. Highly inovated Free PC control application.
*USB cable sold at stores, required.
Power saving system and AC power supply allows longer continuous device operation
1. Battely life incresed 23% allowing 160 hours continuous device operation.
2. 3 way power supply system with batteries, USB and AC power supply.
*AC adapter sold at stores, required.
3. Sampling speed is improved 1.5 times when measuring in the hold mode.
4. Mode Accuracy of high resolution for measurement on DC magnetic flux density, is now improved. (compared with previous product)
5. Range covering frequency for measuring AC magnetic flux density is expanded. (40 – 500Hz)
*Measured data is now "mT" exclusively in compliance with the unit specified by the Measurement Law.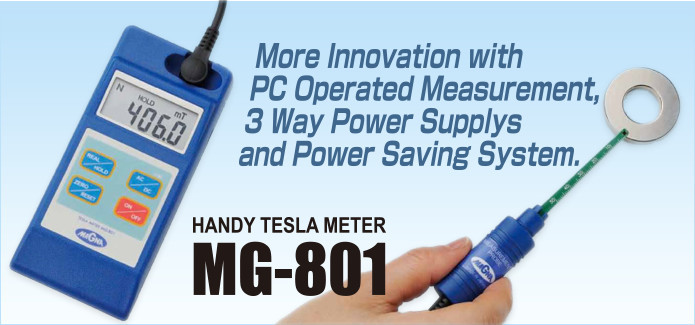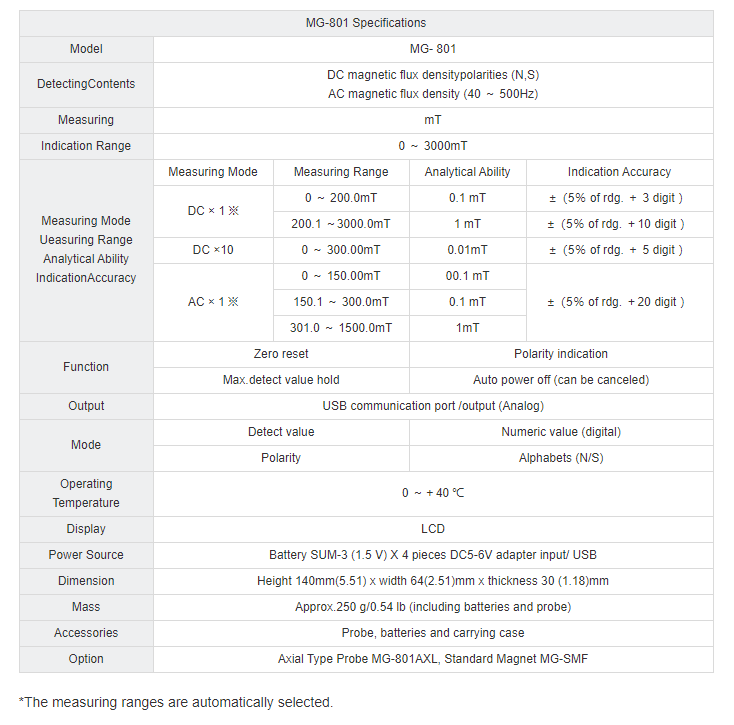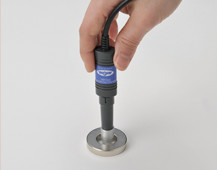 Model

MG-801AXL


MG-501

MG-601

MG-701

MG-801

Other models are not compatible.
Excellent to measure a magnetic flux of air core coil.

High frequency of use as MG-701AXL wears better than the Standard Type Probe.
Note: Since the Axial Type Probe has a gap, about 0.5 mm approximately, between the magnetic flux sensor and an object to be measured, the measured value can be different from that of Standard Type Probe (Transverse type).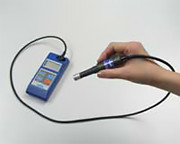 1
Plug the Axial Type Probe MG-801AXL into the gauss meter.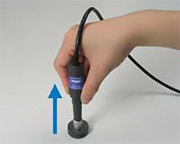 2
This is the way to measure an axial magnetic field density whose magnetic direction is indicated on the picture.
Contact vertically with the target object and consider the maximum value as measured value.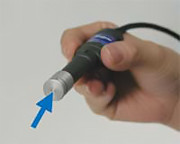 3
The sensor is positioned in the center of the probe head as indicated on the picture. An accurate value cannot be measured out of the point. To train on a target point, use the angle indexes as a guide, which are marked on each 90 degree around the head.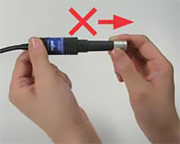 4
The sensor is not separable from the head. Also do not overpower the head as indicated direction on the picture, it can cause failure.
Note: With respect to its general use, please refer to the instruction manual for the gauss meter as it is the same as that of the Standard Type Probe, except the preceding measuring methods.
*Probe in Photos above for showing how to use is MG-701 Axial probe.
1. The product is composed of precision parts and components. Due to careless handling or a strong shock the product may be damaged or lost.
2. The product is neither splash-proofed nor waterproofed. It is not recommended to use the product under conditions of humidity.
3. Please note that we shall not be held responsible for any damage or lost profits or any claims from the third party resulting from the use of the product.
Measured data is read by PC and also PC can operate measuring through USB connection by using a custom made PC control application (free downloading). *USB cable sold at stores is required.
Download here.